WELFARE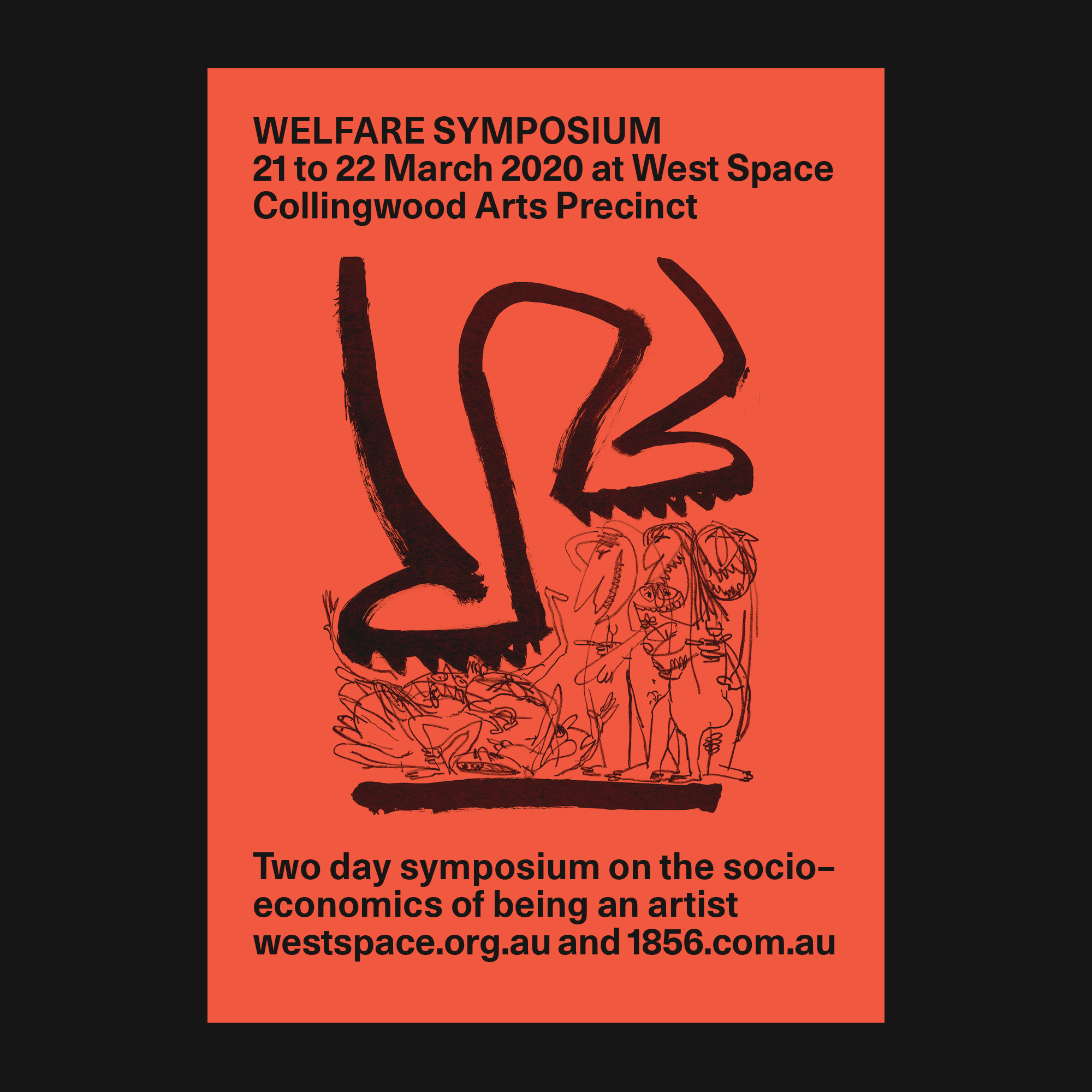 WELFARE

11am - 6pm, March 21-22 2020

Two day symposium on the socio-economics of being an artist
Co-presented with West Space
Collingwood Art Precinct
March 21-22, 2020



Q.



What does it mean to live and work as an artist in Australia today? What supports and maintains the welfare of artists? What are the pressures of precarious and undervalued work? How do we pay rent, eat, raise families, go to the movies, maintain a livelihood? Where does the money come from? (What is the "patronage" of Australian art today?) What are the responsibilities of cultural institutions, the welfare system, the unions, the universities, the government, the tax office to artists? What is a "career" as an artist? Who decides what "professionalism" is? (and do we need it at all?) Who has access to becoming an artist? And what are the implications of class, race, gender, age and cultural difference amongst all of this?





A.
These questions inform the basis for a two day symposium co-produced by 1856 and West Space on the topic of artists' welfare. It will raise these questions in order to attain both speculative and hard answers, while pushing for solutions to problems such as collective representation. It will bring together speakers from diverse backgrounds that have a stake in the livelihood of artists, including museum curators, policy makers, union representatives, art historians, educators, and importantly: artists.


11am - 6pm Saturday, March 21
The first day features a series of public presentations by invited respondents. Confirmed speakers include Ben Eltham, Lisa Radford, Young Workers Centre, Eugenia Lim, Helen Johnson, Hospo Voice, Ramaya Tegegne (Wages Against, Switzerland), Sam Petersen, Sarah Rodigari and more to be announced.


11am - 5pm, Sunday March 22
The second day brings together a selection of the artists and organisers to work on creating solutions in response to the issues presented on the first day. This session will be run by a union organiser and will be open to participants by expression of interest. Please register your interest by emailing info@westspace.org.au


RSVP HERE


WELFARE takes place on the lands of the Wurundjeri people. West Space and 1856 acknowledge the Wurundjeri and the neighbouring Boonwurrung people as the traditional owners of this land, and pay respects to their Elders: past, present and emerging.


Presented by 1856 and West Space at Collingwood Arts Precinct


Notice to parents: Please contact us if you are planning on attending with children. If there is a need we will arrange childcare.
Supported by the Australia Council for the Arts, Creative Victoria, and City of Yarra.