Hannah Quinlan & Rosie Hastings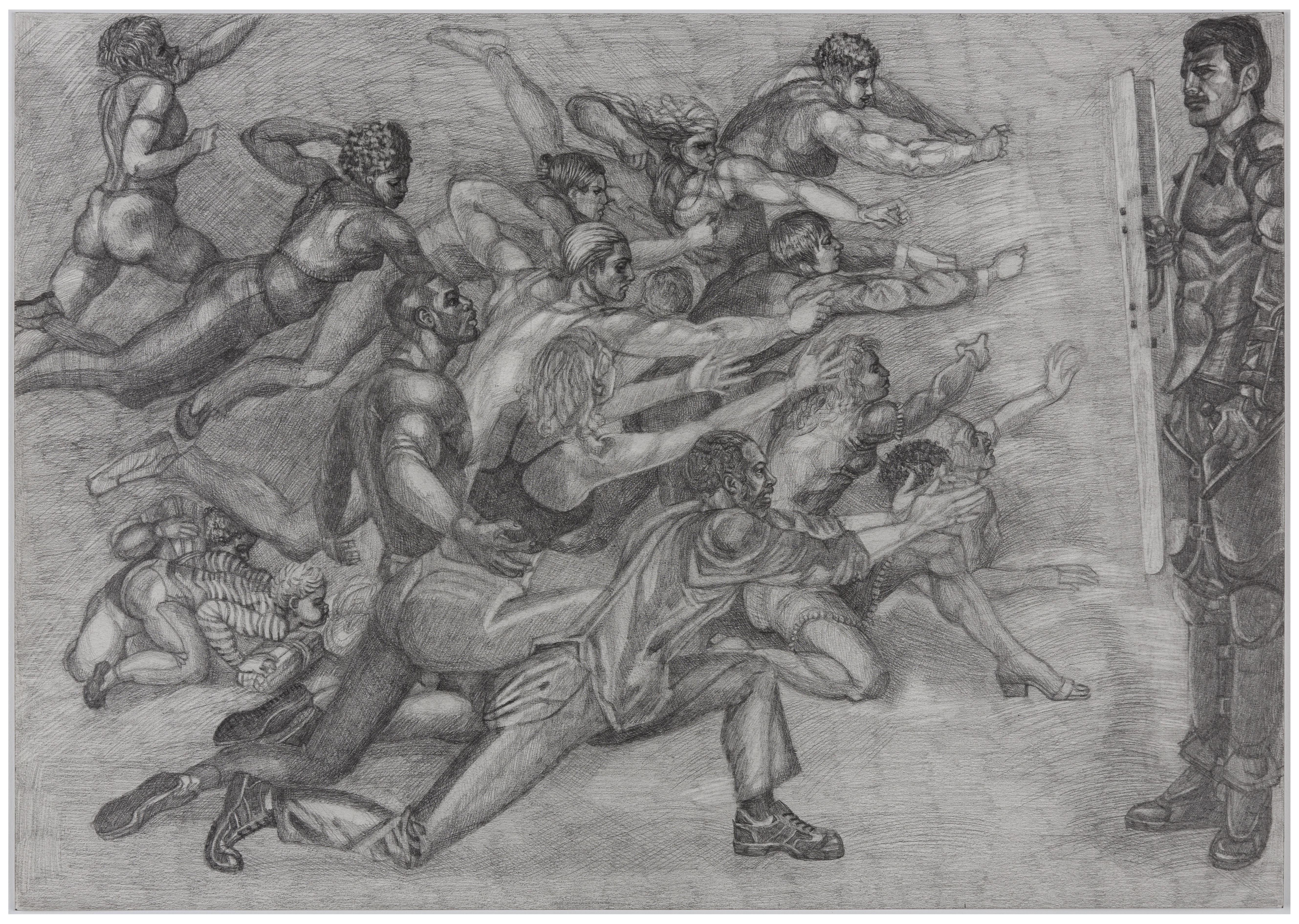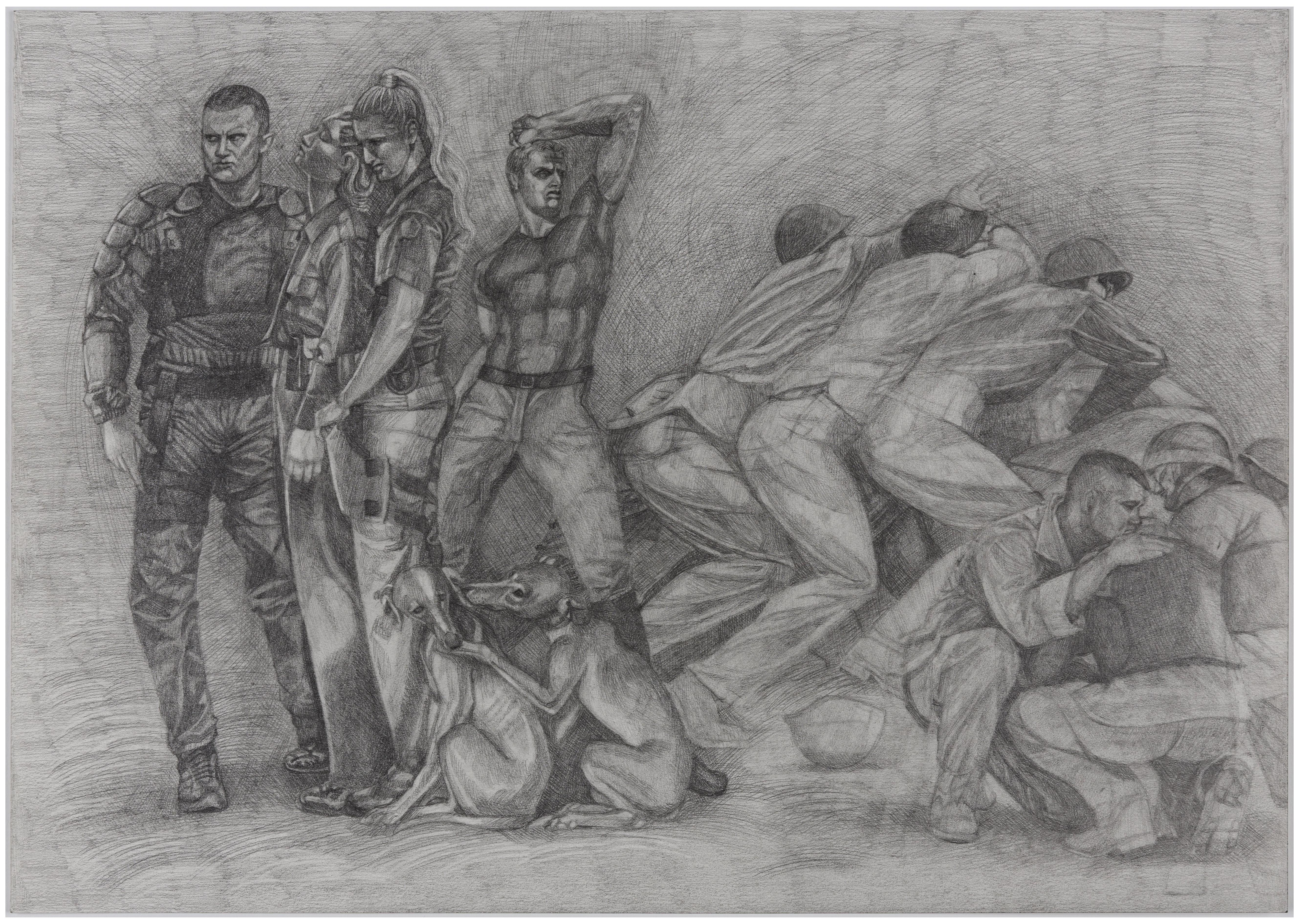 'They will flee like chaff scattered by the wind or like dust whirling before a storm', 2020
Diptych, two offset lithographs reproducing pencil drawings.
---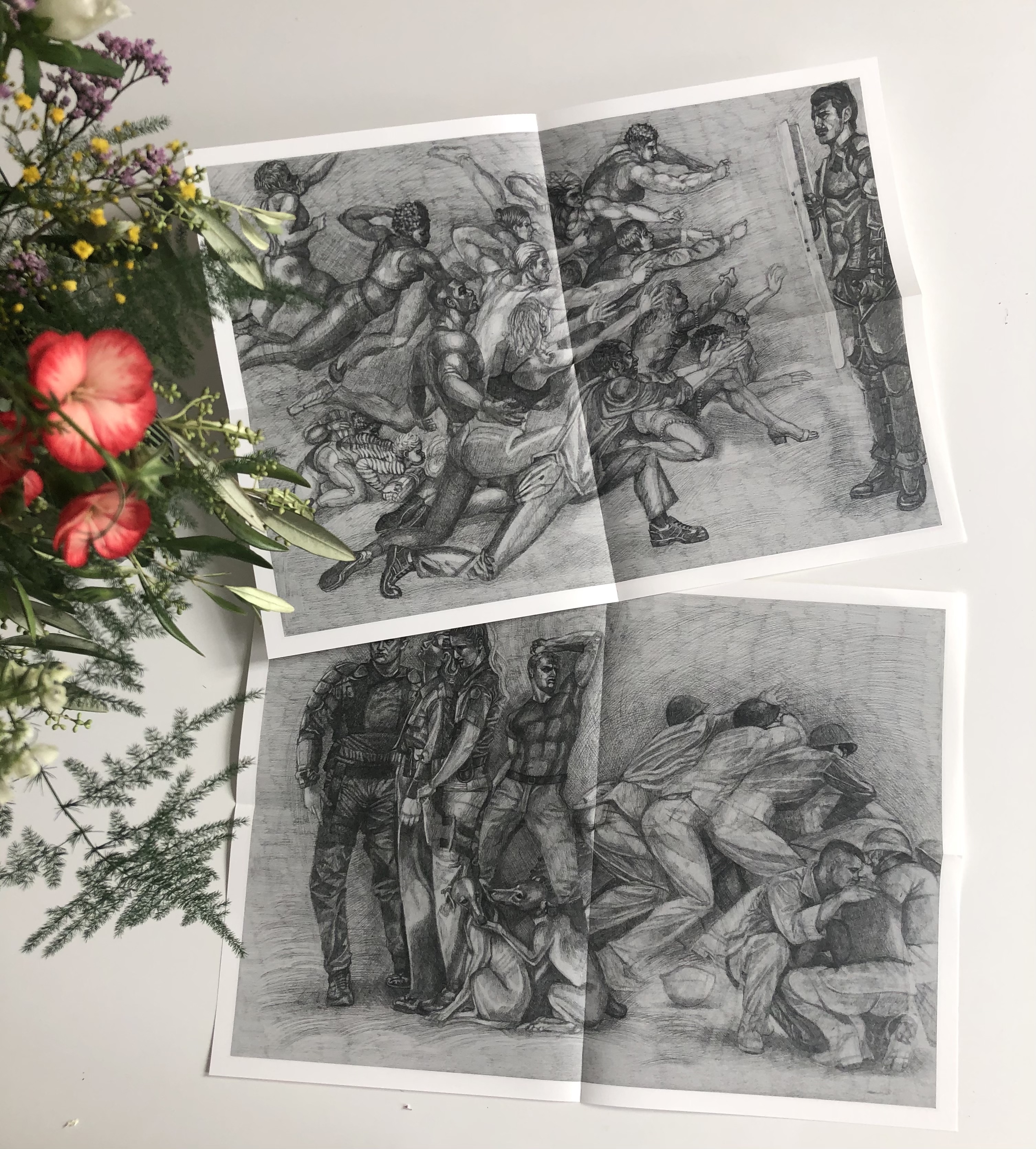 Special Edition (50 copies, signed and numbered by the artists) : $250 Aus. Dollars
Mass Edition (500 copies, unsigned, and folded): $30
They will flee like chaff scattered by the wind or like dust whirling before a storm was produced as a commission by British artists Hannah Quinlan & Rosie Hastings for 1856, with part of the proceeds going towards future 1856 programming and donations to The Dhadjowa Foundation — established to provide strategic, coordinated and culturally appropriate support for Aboriginal and Torres Strait Islander families whose loved ones have died in custody.
This edition of two prints brings together the Michelangelo sketch, "Archers Shooting at a Herm," with a scene of modern revolt against a hostile white police force, depicting the tense relationship between states of power and the LGBTQ+ community. Quinlan & Hastings' diptych represents an unruly clash of registers such as the disciplining power of the state, here depicted in a moment of crisis, and the rebellious energy of the people who protest and occupy public spaces. This edition's launch is accompanied by an essay by Pip Wallis.
The edition is available in two versions:
Special Edition (50 copies, signed and numbered by the artists): $250 AUD + $50 shipping
Email to order Special Edition
Mass edition (500 copies, unsigned, and folded): $30 AUD + $12 shipping
---
---
---
---
---
They will flee like chaff scattered by the wind or like dust whirling before a storm, Pip Wallis
Everyone is missing the mark in Michelangelo's allegorical sketch, Archers Shooting at a Herm (1530-33). The archers are distracted from pure love by base desire. Cupid sleeps, nestled with a dog, while two putti use their breath to fan the flames of lust. The chaotic scene is like any collective action; a mass of divergent aims and attentions where the needs and aspirations of the individual and the group make sometimes for harmony, sometimes cacophony.
In Quinlan & Hastings' quotation of this sketch, muscular physicality carries a group of people in a harmonious composition which belies the disparate urgencies of such a group. They reach with purpose as though they might tumble the herm. Here that target is replaced by a muscular, unflinching and mythologised policeman who is the image of state authority — a mythology indeed. Behind him, in the midst of action, two policewomen stand together in a moment of sighing desire. Three officers embrace nearby, a huddle of empathy close to the ground. And still others crumble into one another in a more active, but no less intimate, entanglement of force and eroticism. These bodies carry all that human bodies carry — conflicting states of desire, arrogance, confusion, and exhaustion. The united front dissolves into a distracted crisis of policing.
The libidinal charge of power is imaged in the power drag of these police officers. Quinlan & Hastings often unfurl and unpick the pageantry of policing and the place of this imaginary in gay erotics — the participation of uniformed officers in pride marches, the donning of military uniform as costume, and the wielding of fake weapons at circuit parties. The question of how the symbolism and devices of dominance, white supremacy and patriarchy in eroticism are either overturned through parody or reinscribed through repetition has long accompanied practises of pleasure.
Police violence has reignited a debate at 1856's home — the Victorian Trades Hall — about the inclusion of the police union in the affiliate. At different points in recent history the Victoria Police Association has left and returned to the Trades Hall, and 2020 has seen much agitation for their removal. Similarly, the King County Labour Council Washington, which represents 150 unions, expelled the Seattle Police Officers Guild. These debates are woven with the histories of class and workers struggles, as well as private and capitalist interests.
The involvement of queer police officers in marches and actions highlight the overlapping embodiments of power laid within community. Political struggle carries the duality of being inevitably run-through with intersecting lines, and of simultaneously requiring unity in order to overturn deeply rooted ideologies. Quinlan & Hastings render the complication and strength of cohesion in collective action which plays out on the terrain of the interpersonal and the ideological.
Hannah Quinlan and Rosie Hastings (both b. 1991, Newcastle and London) live and work in South-East London. Working across film, drawing, installation, performance and fresco, Hannah and Rosie address the sociocultural and political structures that reinforce conservatism and discriminatory practices within and around the LGBTQ+ community. Their work archives the politics, histories and aesthetics of queer spaces and culture in the West, and proposes strategies for the redistribution of power in relation to gender, class and race.
---
Selected Solo Exhibitions include: Disgrace, Arcadia Missa (2021), Public Affairs, Isabella Bortolozzi, Berlin (2020), In My Room, MOSTYN, Llandudno, Wales, UK (2020), In My Room, Focal Point Gallery, Southend-on-Sea, UK (2020). Selected Group Exhibitions include: BREATHLESS / SENZA RESPIRO. London Art Now, Fondazione Musei Civici di Venezia, Venice, IT (2019), Kiss My Genders, Hayward Gallery, London, UK (2019), Queer Spaces: London, 1980s – Today, Whitechapel Gallery, London, UK (2019), Cruising Pavillion, ArkDes, Sweden's National Centre for Architecture and Design, Stockholm, SE (2019), Who Loves in The World, Canton Gallery, Guangzhou, CN (2018), Do You Want to Quit? Intimacy, Site, Self, University of California, US (2018), Coded Encounters, Galeria Graça Brandão, Lisbon, PT (2018), The Cruising Pavilion, Venice Architecture Biennale, Venice, IT (2018), Coming Out, Walker Art Gallery, Liverpool, UK (2017). Selected Performances include: Move Festival, Centre Pompidou, Paris, FR (2021), Art Night, London, UK (2019), Image Transmission, ICA, London, UK (2019), Move Festival, Centre Pompidou, Paris, FR (2019), Kiss My Genders Live, Southbank Centre, London, UK (2019), (X) An Evening of Performances + DRAF 10th Anniversary Party, KOKO, London, UK (2017).
---
With special thanks to Arcadia Missa, Imogen Beynon, Tristen Harwood, Paul Mylechrane, Ziga Testen, Wilco Art Printers.